Our DIY Kitchen Makeover Plans (with Before Pictures)
Little Kitchen Problems

Do you have a room in your house that is your least favorite room to go in? Probably, but hopefully, it's not the same room as mine. Mine, unfortunately for my husband and myself, is the kitchen. The room that is supposed to be the heart and soul of every home, is my least favorite room to walk in. So much so that I will happily go to bed hungry rather than walk in that kitchen to feed myself (bad, I know…)

I don't feel like this in every kitchen, just ours. We have a weird apartment, and that's part of what I love about it, but it's also that weirdness that makes me hate our little kitchen. We have a pretty small galley style kitchen that opens up to our main living area on one end, and our front door on the other.

Issue: No Natural Light
The main problem with this kitchen is that it's just too dark, there is little to no natural light. The one nice thing though, especially living in Southern California, is that the front door opens up into a small but nice covered patio with a really great skylight that we like to open up on weekends.
Issue: Poor Paint Choice
We first moved into this place in April of 2011 and I had every intention of making our little kitchen as pretty and functional as possible. I did pretty well with the furniture picks, but all it took was one bad paint choice to cause me to avoid this room for just about seven years now. It sucks too because Jeffery loves to cook, and not only is this kitchen small even by my standards, but it's straight up dull and depressing.

The color of the kitchen is Dunn-Edwards Formal Grey, which drenched in natural light looks exactly how I imagined. But seeing as we have no natural light, the color just doesn't come off the way I'd planned. The only light we have currently is the ceiling light which is off-centered in the wrong direction, and some cheap IKEA under cabinet lighting with a little dial to change the color of the lighting to any color except flattering.
Little Kitchen, Big Plans
I'm finally over it and am ready to re-do this kitchen so that it looks the way I know it can. I am keeping the black sideboards and shelving and am making the rest of the kitchen white. I will also be putting up a peel-and-stick white subway tile [by Tic Tac Tile] as a backsplash and covering our dated laminate countertops with a white marble contact paper. All really nice looking and not only budget friendly, but also renter friendly.

As you saw at the top of the post my mood board for the kitchen remodel, I have included a little slide-show of the awful before pictures so that you get a real feel for how big this transformation is going to be. I have already begun the backsplash project and it's turning out awesome, so stay tuned for that update coming soon!

P.S. And don't worry, my kitchen isn't normally this bare, I have most of the shelves cleared so that I can get ready to sample some paint colors.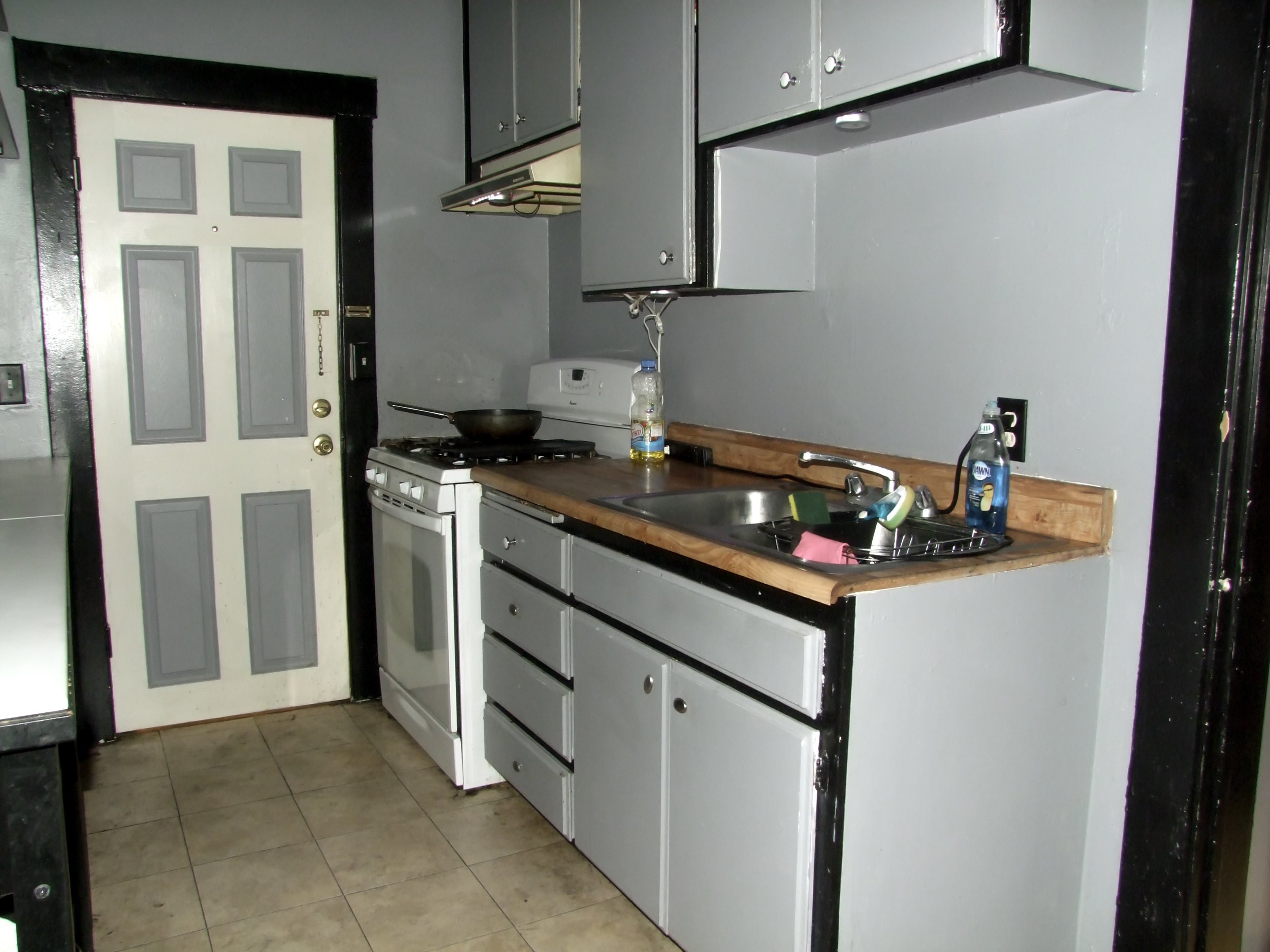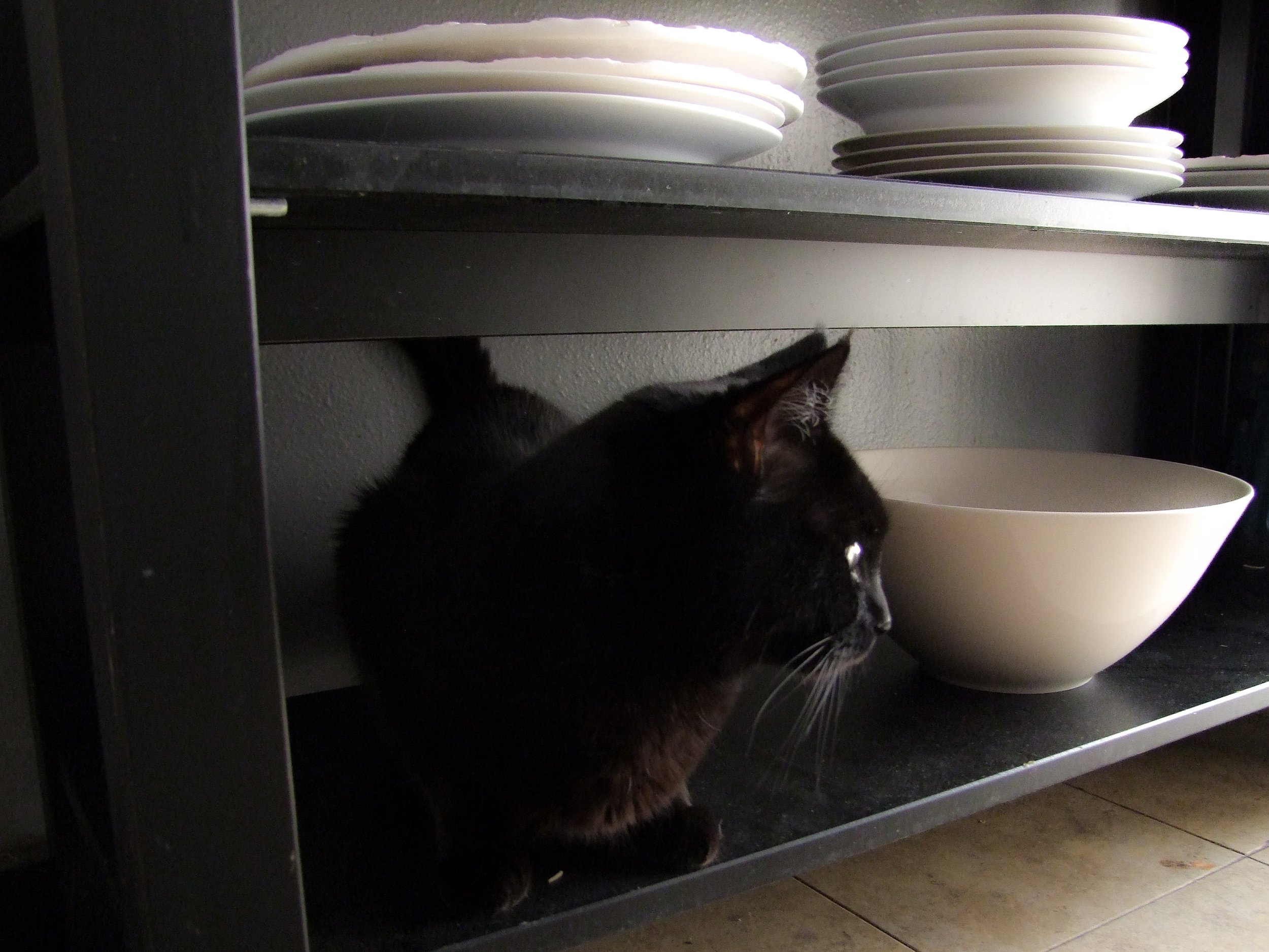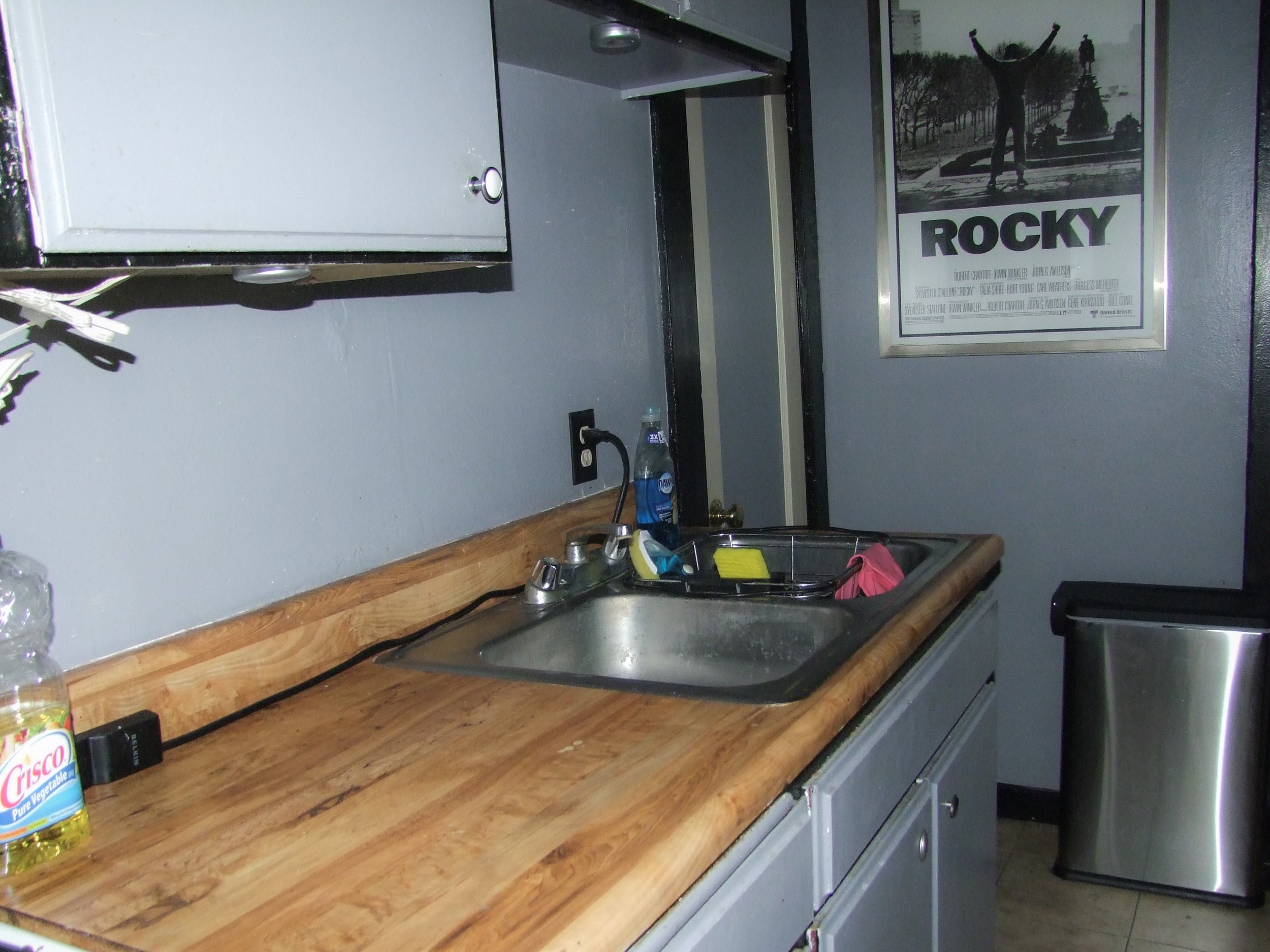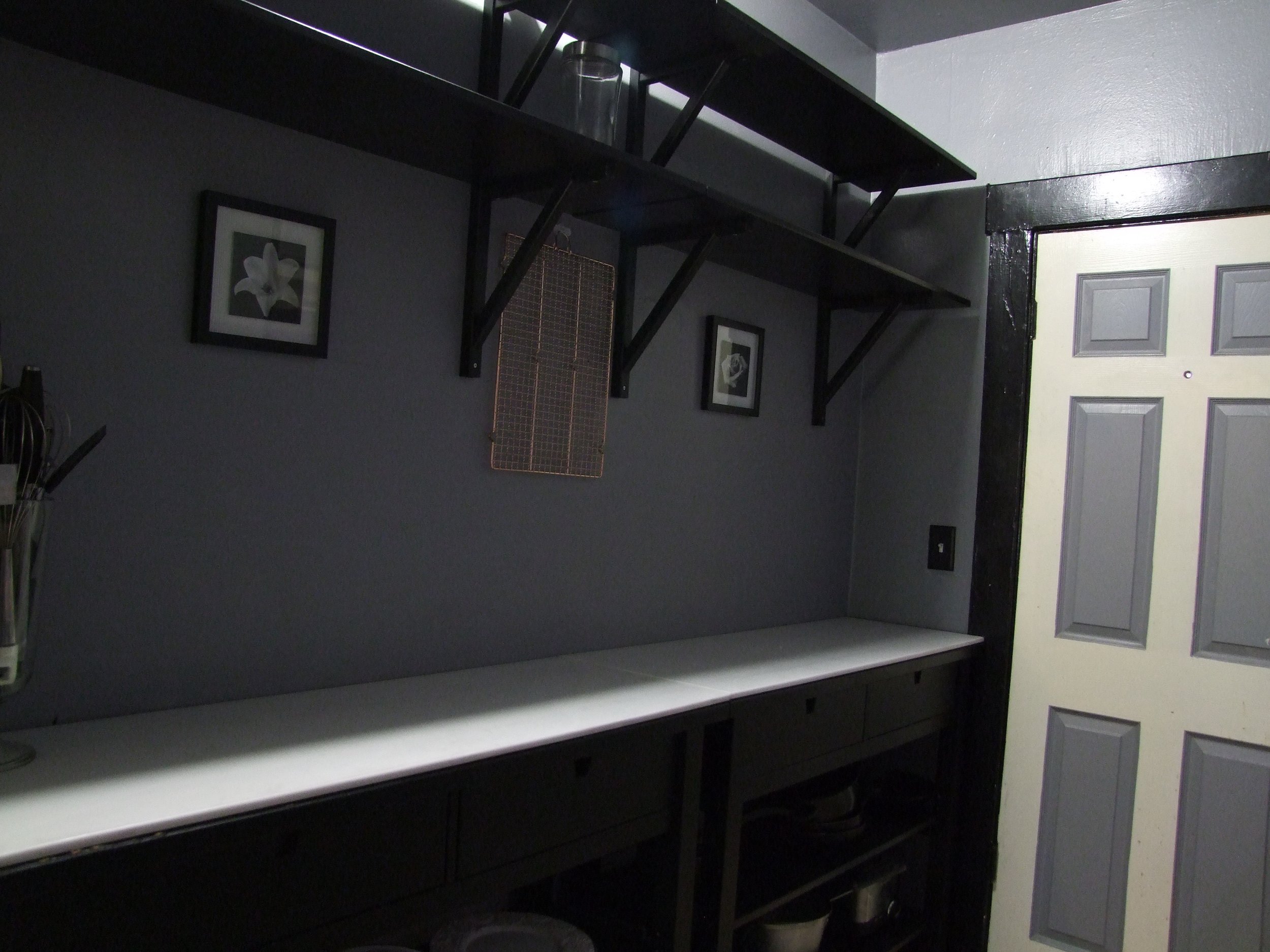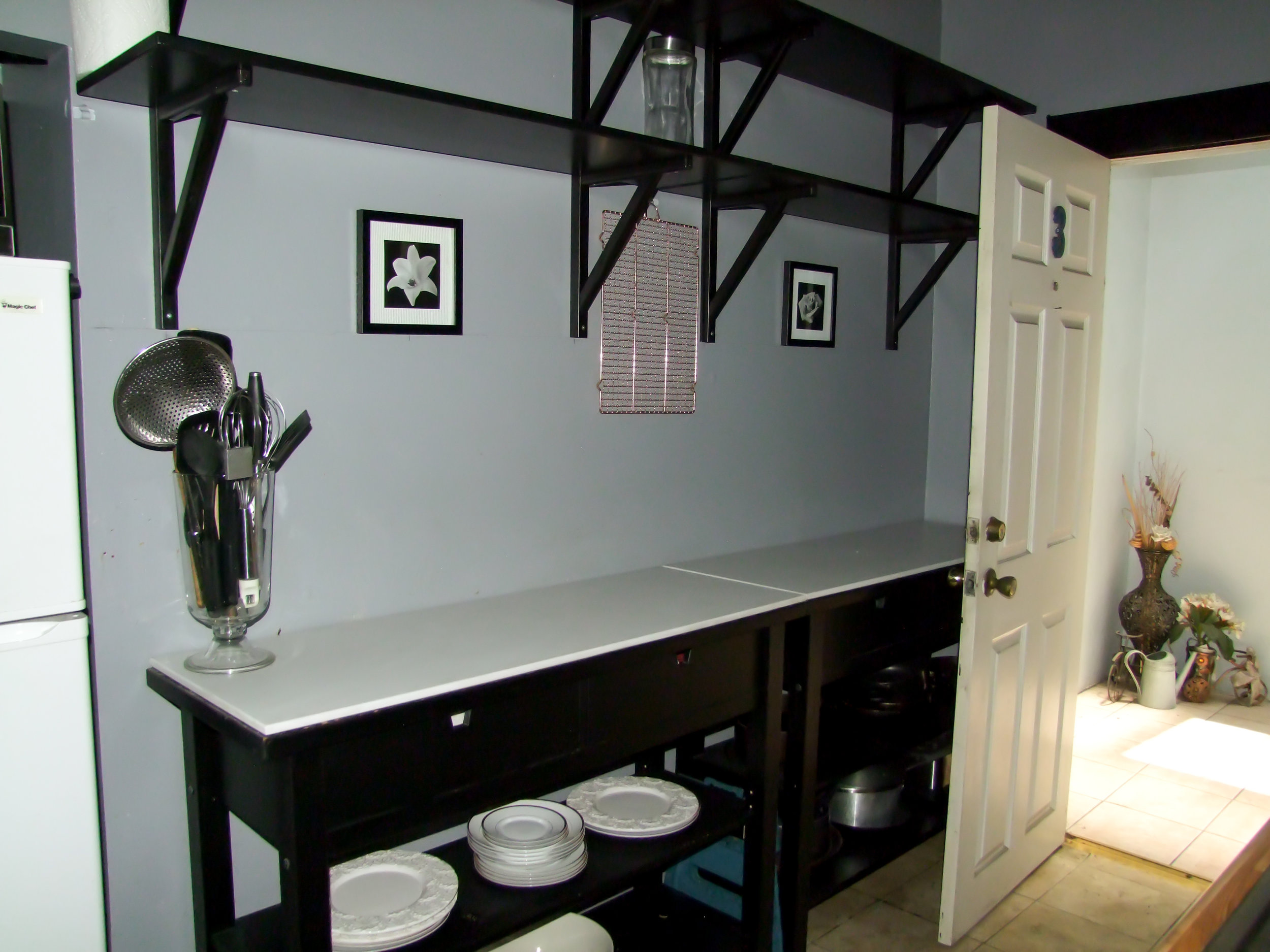 The Before pictures of our dark little galley kitchen.